The Science Centre invites to science shows and technical creative workshops!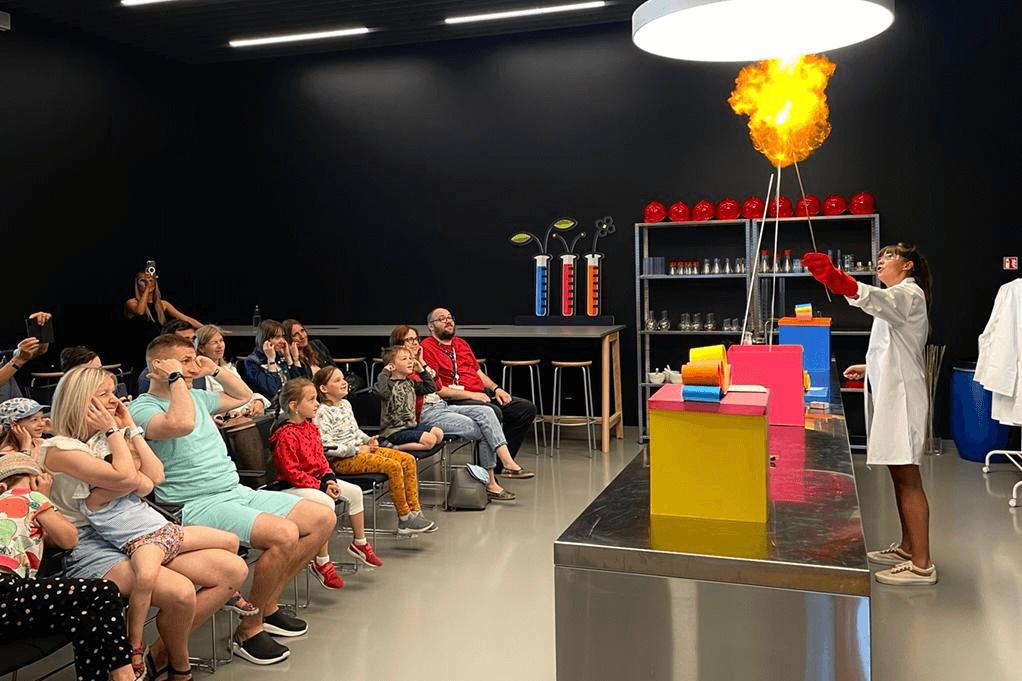 There is active movement going on at the just opened Ventspils Science Centre VIZIUM, and already on the first days of operation the Science Centre has received a considerable flow of visitors - both local residents, and tourists from Latvia and abroad. The Science Centre attracts not only with its diverse and interactive exhibition, but also encourages every visitor to give in to curiosity, view spectacular science shows and take a part in technical creative workshops.
In addition to visiting the exhibition, the Science Centre offers to explore natural sciences and have fun, attending attractive science shows, which will be available to guests of VIZIUM every day at specific times.
Times of science shows:
P.-Sv.
12:00; 14:00; 16:00
During science shows in this summer, visitors will have a chance to find themselves in "Science Party" atmosphere and enjoy classic party traditions with a scientific approach. Magic or science? For someone - magic, but for those who understand chemistry and physics – it is science. During these shows, kids will experience miracles that will make their heart beat faster and will generate a desire to gain knowledge that explains, why the things experienced during the show happen.
Whereas starting from 25 June, on Saturdays and Sundays, every interested visitor will have an opportunity to participate in technical creative workshops (60 min.), which will be organised also on working days after some time. A new topic of workshops will be chosen each month – the first one will be "The Month of Water".
Times of technical creative workshops:
| | |
| --- | --- |
| Sat. | Sun. |
| 13:00; 17:00 | 14:00 |
During the creative workshops within "The Month of Water", participants will have a chance to explore the underwater life and inhabitants of the Baltic Sea and the entire world. Participants will be given an opportunity to create their own mini ecosystem with sea inhabitants of their choice.
Due to the huge interest from people, also informative tours of the VIZIUM building will be offered, available upon previous registration and arranging the visit time, by sending a message to the e-mail address info@vizium.lv. The price of the tour will be 3 EUR per person. If participants of the tour have a desire to try exhibits, a separate ticket to the exhibition hall will have to be acquired.
Also VIZIUM terrace and the 30-metre high observation platform are publicly available from 18 June, from which a great view over Ventspils will be offered every day from 8.00 – 22.00.
Tickets to exhibitions halls, science shows and creative workshops can be acquired at the Ticket Office of the Science Centre VIZIUM. More detailed information can be obtained by calling: 66776633, or sending an e-mail to: info@vizium.lv, on VIZIUM social network profiles (@viziumventspils), and on the homepage www.vizium.lv.
The activity is implemented within the framework of the European Economic Area Financial Mechanism and the Norwegian Financial Mechanism programme 2014 - 2021 "Research and Education", activity "Innovation Centres", project "Foundation of an Innovation Centre in Ventspils"