About VIZIUM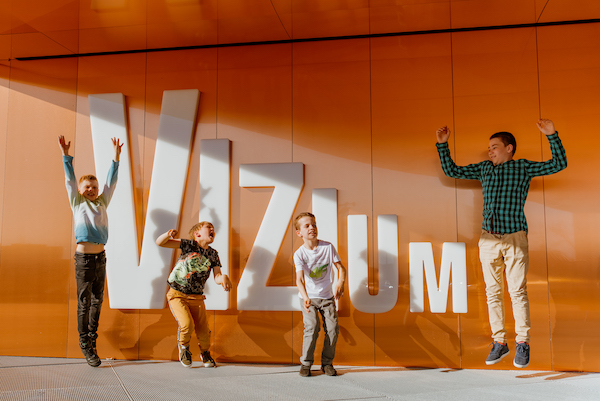 VIZIUM is a unique science centre, which aims at providing STEM education to children and young people through technologies, creative workshops, and science shows.
At the science centre, every visitor will have the opportunity to travel to the city of future to learn more about science and other topics, such as physics and mathematics, modern technologies and programming, healthy lifestyle, human body, self-knowledge, geography, etc. in an exciting way, by means of 80 interactive and education-oriented exhibits located in seven galleries dedicated to technology and natural science.
VIZIUM is a place to be for both young and old! The exhibits of VIZIUM will allow the visitors to put themselves into the shoes of a professional football player and a shooter, to rush down the extreme snowboard slope, to experience a powerful earthquake, to escape a virtual labyrinth, to try on virtual national costumes, to get an adrenaline rush riding a roller coaster, and so much more! VIZIUM will also offer exciting technical creative workshops and science shows, which will provide added value to the visit of the science centre. The science centre has not forgotten about the youngest visitors who will also have their share of fun, using the water adventure world attraction, playing one of our childhood classics – the store, and taking up the role of a constructor.
VIZIUM is not only a place, where the entire family can enjoy interesting and meaningful activities, but also a popular destination of field trips that promises loads of adventures!
After the science shows and an active tour through the exhibit hall, the visitors of the science centre will have the opportunity to enjoy a delicious meal at the café of the science centre, to enjoy the impressive landscape of the city of Ventspils, and to take great Instagram photos on the VIZIUM terrace.
The mission of the science centre is to invite and to encourage everyone to take an interest in, to explore, and to acquire natural and engineering science and to complement the formal education with exciting and interactive cognitive world experience.